How to Plan an Ice Cream Social
An ice cream social is a delicious way to beat the heat and entertain kids. The fun part of this party is that kids get to create their own ice cream flavors, design their own container and take home their concoctions with them. With a few simple details and key ingredients, you can pull off this easy ice cream social for kids--perfect for celebrating a birthday or nothing more than a hot summer afternoon with friends
Things You'll Need
Card stock paper--brown, white, pink, orange, mint and red

Fine glitter

Colored felt and twine

Optional: felt letters to spell "Ice Cream"

Bandanas (one for each child invited)

Small paint cans (available at crafts stores)

Ice cream labels (printed on white paper)

Colored pencils/markers
Vanilla ice cream (2 gallons)

Mix-in ingredients: pretzels, gummy bears, gumballs, M & M's, chocolate chips, mini marshmallows, Skittles, caramels

Ice cream cones

Sprinkles

Pink lemonade

Glass milk bottles

Paper straws
Step 1
With the overwhelming selection of store bought cards and online designs now available, a simple handmade invitation stands out in the mailbox--a charming way to welcome friends. Using sherbet-hued cardstock paper, cut two ice cream scoop shapes for each invitation and one brown cone shape for the base.
Step 2
Glue together and top with a small red "cherry" cut from red card stock. Add glitter "sprinkles" for a finishing touch. Complete your invite by adding the text of your party details in the cone area. These sweet cards set the tone for a great party "flavor."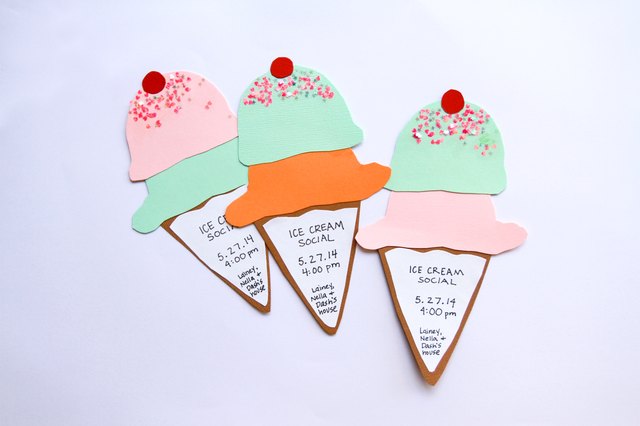 Step 3
Create an ice cream banner to hang above your table. Using the colored felt (sherbet hues like orange, pink and mint add a nice touch), cut triangle pennants. Hot glue triangles onto twine and add the word "Ice Cream" if desired.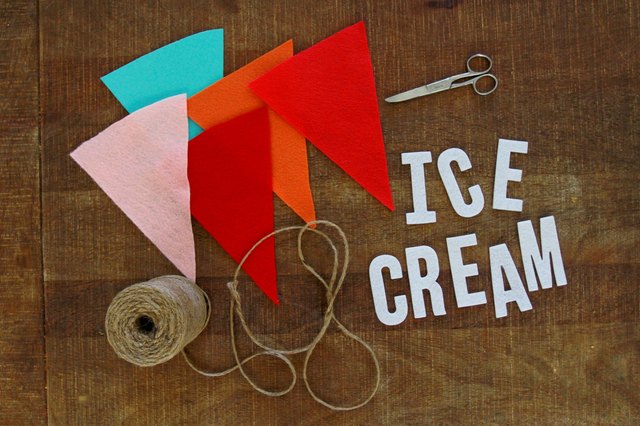 Step 4
Hang banner over a table, and set up your ice cream station so that it's easily accessible for kids. A small child's table covered with a pretty table cloth works great.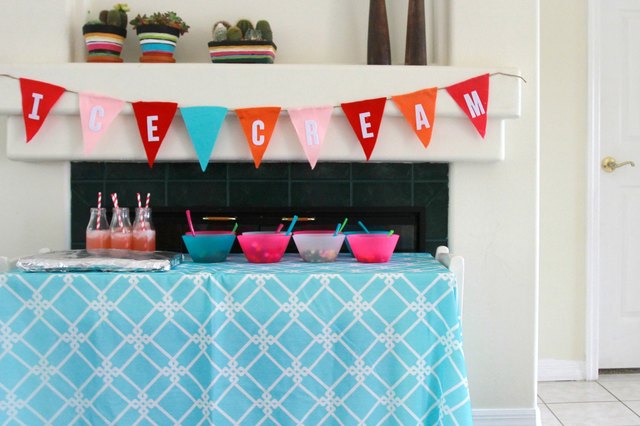 Step 5
Divide ice cream "add-ins" into bowls, and create an ice cream mix-in space. A large cutting board covered in aluminum foil woks great.
Step 6
Since the highlight of this party is the ice cream, you don't need much more in terms of treats to serve. Pink lemonade complements the summer thing (and the color theme) perfectly, and when served in cute milk bottles with paper straws, it adds a nice party touch.